Introduction:
FDQF Full Automatic Stripping Roll Die Cutting Machine is widely used in paper packaging field, such as KFC paper box, Mcdonald's paper box packaging, Corona Beer paper packaging and so on. It adopts micro-computer, human-computer control interface, servo positioning, alternating current frequency converter, automatic counting, manual pneumatic lock plate, photoelectric correcting deviation system, electromagnetic cluth, centralized oil lubrication, overload protection and distinctive gearing which can gurantee smooth operations of returning paper and feeding paper, precise positioning and oderly withdrawing. All the key parts and controls of the machine are imported. Such installation can realize the machine in steady pressure, precise positioning, smooth moving, saftey and reliability.
Model
FDQF1100x780
FDQF1400x780

Customized

Max Cutting Area

1050mmx750mm

1350x750mm

Cutting Precision

±0.10-0.20mm

Paper Gram Weight

180-600g/㎡

Production Capacity

80-120 times/min

Air Pressure Requirement

0.6Mpa

Air Pressure Consumption

0.25m³/min

Max Cutting Pressure

280T

Max Roller Diameter

1600mm

Total Power

30KW

30KW

Total Weight

16T

18T

Dimension

12500x4500x2000mm

12500x5000x2200mm
Main structure
1.Worm Gear Structure: Perfect worm wheel and worm transmission system ensures the powerful and steady pressure and makes the cutting accurately while the machine runs with high speed, has features of low noise, smooth running and high cutting pressure
Main base frame, moving frame and top frame are all adopts high strength Ductile Cast Iron QT500-7, which has features of high tensile strength, anti-deformation and anti-fatigable.

2.Lubri cation System: Adopts forced lubrication system to ensure main driving oil supply regularly and reduce friction and prolong the machine life, machine will shut down for protection if oil pressure is low. The oil circuit adds a filter to clear the oil and a flow switch to monitor lacking oil.

3. The die-cutting force is provided by a 11KW inverter motor driver. It is not only power-saving, but also can realize the stepless speed adjustment, especially when coordinate with the extra large flywheel, which make the die-cutting force strong and steady, and the electricity can be further reduced.
Pneumatic clutch brake: through adjust the air pressure to control the driving torque, low noise and high brake performance. The machine will shut down automatically if overload happened, response sensitive and fast.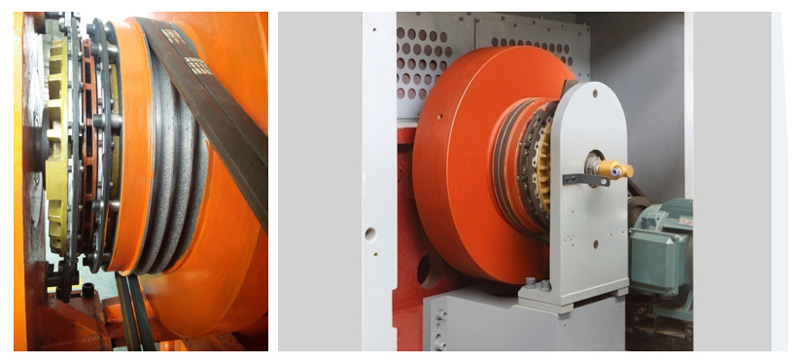 4. Electrical control pressure: accurate and fast to achieve die-cutting pressure adjustment, The pressure is automatic adjusted through the motor to control the four feet by HMI.It is very convenient and accurate.

5. It can die-cut according to the printed words and figures or simply die-cut without them. The coordination between stepping motor and photoelectric eye which can identify colors assures the perfectly fit of the die-cutting position and figures. Simply set the feed length through the micro-computer controller to die-cut the products without words and figures. The pression will be ±0.1mm.

6. Electrical cabinet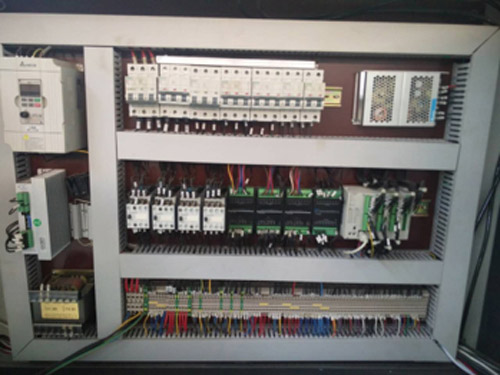 Motor: Frequency converter controls the main motor, with features of low energy and high efficiency.
PLC and HMI: screen display the running data and status, all of the parameter can be set through the screen.
Electrical control system: adopts micro computer control, encoder angle detect and control, photoelectric chase and detect, achieving from paper feeding, convey, die-cutting and delivering process automatic control and detect.
Security devices: machine alarming when failure happens, and automatic shut down for protection.
7. Correction Unit: This device is controlled by Motor, which can fix and adjust the paper in a correct position. (left o right)

8. Die cutting department adopts pneumatic lock version of the device to avoid come off from the machine.
Die cutting plate: 65Mn steel plate heating treatment, high hardness and flatness.
Die cutting knife plate and plate frame can be take out so that it can save plate-changing time.

9. Paper blocked alarm: the alarm system makes the machine stop when paper feeding blocked.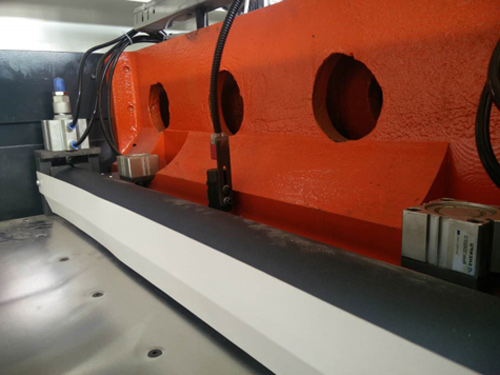 10. Feeding Unit: Adopts and hydraumatic shaftless, it could support 3'', 6'', 8'', 12''. Max roll paper diameter 1.6m.

11. Load material: Electric roll material loading, which is easy and fast. The two rubber covered rollers are controlled by Traction Motor, so it's very easy to make paper go forward automatically.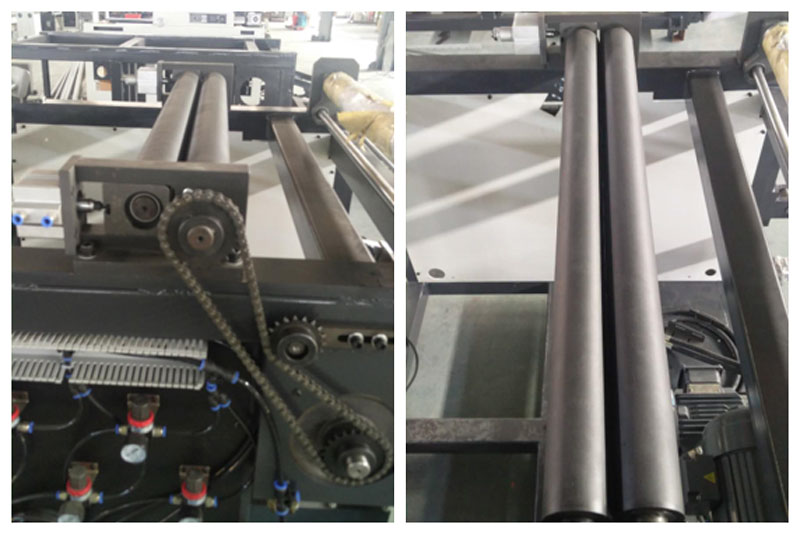 12. Automatically fold and flatten the cornering materials at the paper core. It realized the multistage adjustment of the folding degree. No matter how bent the product is, it can be flatten or refolded towards other directions.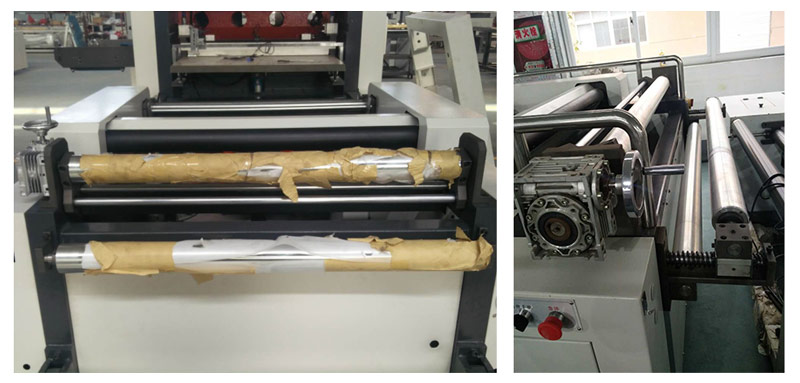 13. Feed material: the photoelectric eye tracking system assures the synchronization of material feeding and die-cutting speed.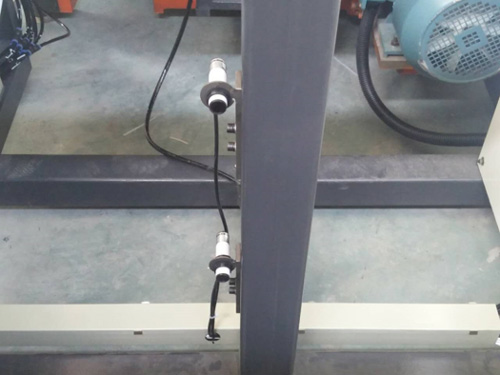 14. Feeding Positioning Section: Side location adopts dual purpose side device with pull and puch according to the different paper width, it makes switch easily.

15. Stripping Part: This is our unique technology, we could stripping all kinds of different products according to the customers requirements. The stripping cylinder is controlled by servo motor that strips exactly. And the stripping pins are very strong, it will save much time to change the broken pins. The wastage will be taken down into the iron box automatically by the air.

16. After the stripping section, the machine will collect the final pieces automatically. It reduces labors. The collection device could be adjustable according to the different sizes of products.